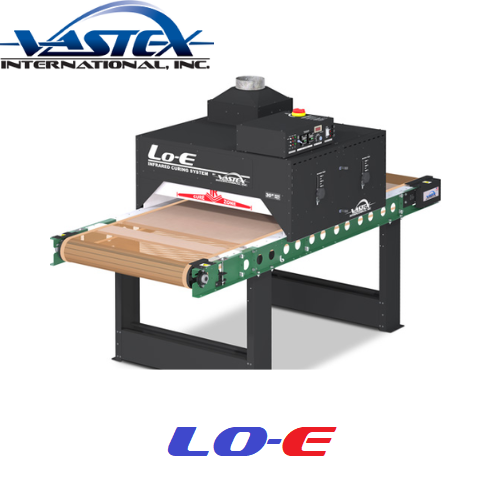 Product Description
This exclusive Vastex advantage enables you to increase capacity as your business grows, limited only by your available floor space and power supply. All Vastex dryers except the smallest D-100 and D-1000 can be expanded. Conveyor extensions can also be added to the front or back of your dryer to optimize loading and cooling/unloading of garments.
The Lo-E is a great machine for a single DTG operating out of a home or, with expansion, larger shops will find it an effective production dryer.
At 3 minutes dwell time it cures up to 45 garments/hr DTG printed with digital white ink. At only 1.5 minutes dwell time it cures up to 88 CMYK DTG garments/hr, 88 pretreat-only garments/hr, or 88 garments/hr screen printed with water-based ink or discharge.
Drawing 22 amps at 240 volts, the dryer's two 24 in. (61 cm)wide by 18 in. (46 cm) deep high-efficiency infrared heaters provide 4,600 watts(4.6 kW) of power, maximizing curing capacity and in turn, minimizing energy costs per garment cured. Height-adjustable, the heaters offer dual zone temperature control and carry an industry-leading 15-year warranty.
A 370 CFM (10.5 m3/min.) exhaust system evacuates moisture and air contaminates from the heating chamber, and cools the enclosure's outer skin and control panel.
The 30 in. (76 cm) wide by 88 in. (224 cm) long conveyor runs true by means of a low friction belt aligner patented by the company, withbelt speed controls allowing infinitely adjustable dwell times from 1 minute to five minutes.
BELT WIDTH: (Maximum garment width)
30" (76 cm)
HEATER WIDTH
24" (61 cm)
ENERGY EFFICIENT
Draws only 22 amps for highly efficient curing
DEPENDABLE
Industry-leading 15-year heater warranty
EXPANDABLE
Add additional chambers and belt extensions
ADVANCED
Top-mounted, Focused Exhaust Air System evacuates fumes and moisture quickly
HEAVY DUTY
"X-Series" Conveyor Belt Roller Tracking System with Teflon coated fiberglass belt and HD belt motor
ADJUSTABLE
Speed, temperature, heater height and heater angle
CONSISTENT
Precision DC belt speed control with digital display
BEST VALUE
Best warranty, high quality, exceptional service
ELECTRICAL SPECIFICATIONS
240V / 22A / 1 PH / 3 WIRE
OPTIONS
Additional heating chambers and conveyor belt extensions
Locking casters for mobility
Donut Probe
UL and ULC Certified
Enter Buying Requirement Details
Other Products in 'Vastex Dryers' category