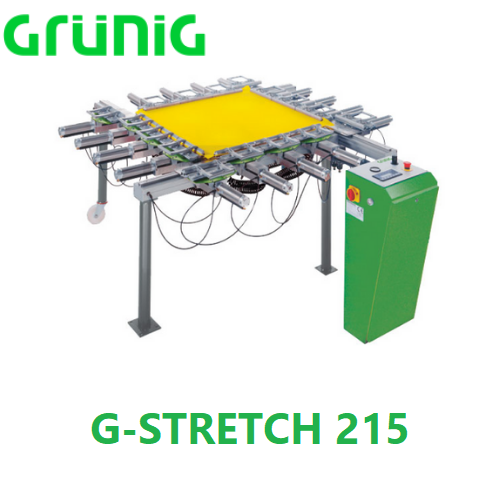 Product Description
Particular characteristics:
The mesh is automatically stretched by means of the pneumatic stretching clamps.
The simple and user-friendly control module with three separate regulating circuits for the X,Y and Z axes allows an individual adjustment of the stretching power and the stretching speed.
The stretching clamps are actuated by means of two manual switches, the first one being destined for the X/Y axes (mesh tension) and the second one for the Z axis (contact pressure onto the frame).
The pneumatic system allows an efficient work process. The required stretching power must only be adjusted for the first screen of a series.
No contact between frame and mesh during the stretching process.
When a mesh is being stretched, the screen frame is pre-stressed with the same counter-stretching force.
Should the prestressing of the screen frame not be desired, it can be suppressed by means of the four fixing screws.
The stretching machine can be continuously adjusted within seconds from the largest down to the smallest screen frame format.
The DUPLEX stretching clamps are equipped with concave ball-bearings which are running on stainless steel precision guide way shafts.
The DUPLEX clamps can be pushed sideways during the stretching process and are thus capable of compensating the extension of the mesh.
The width of astretching clamp is 250 mm. Due to this ideal width, any irregularities of themesh will be automatically compensated by each one of the stretching clamps.This ensures that the mesh is evenly and uniformly stretched on the entire stretching surface.
Technical Specifications:
Machine size:
SB Screen width 750-3000 mm
SL Screen length 750-3000 mm
Frame profile thickness 20-70 mm
Travel distance P.Clamp 115 mm
Size:
Length (2xSL)+80mm/inch
Width (2xSB)+80 mm/inch
Height 860 mm/inch
Compressed air:
Pressure 9 Bar
Air consumption 5 -15 lt/min
Permanent sound pressure level <70 dB(A)
Enter Buying Requirement Details
Other Products in 'Grunig Pre Press Equipments' category