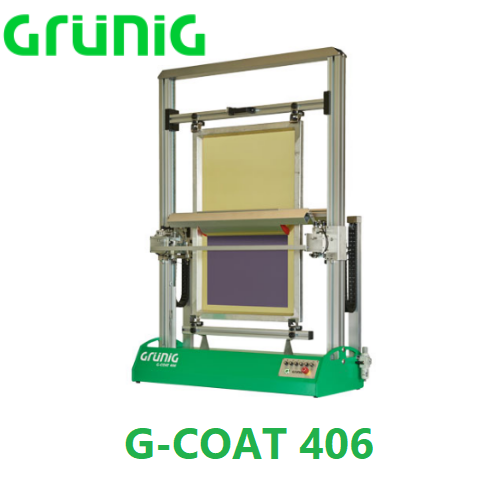 Product Description
The main features at a glance:
Recently developed coating machine of extremely compact and low-maintenance construction type.
The machine is available in two sizes, for screens up to 700 x 1000 mm or 1000 x 1400 mm (25 x 39 or 35 x 55 inch).
The PLUG & COAT system has been designed for trouble-free installation and commissioning: unwrap set up coat
The machine has been constructed as a bench-top model; itcan be operated on any work surface that offers sufficient stability.
To make sure that the machine can also be set up on the floor, an easy-to-mount sub-construction is available as an option.
The upper screen holder can easily and rapidly be adjusted within a range of 250 to the max. height, to cater to the various screen formats.
The screen holders can be adapted to match frame profile thicknesses between 5-25 mm or 20-40 mm.
All the pertinent coating parameters can be smoothly and easily programmed by means of the control panel.
This machine provides for one-sided or double sided simultaneous screen coating.
To optimize the coating surface, the frame profile height can be adjusted within a range of 25 and 100 mm via a rotary knob on the control panel
The contact pressure and the trough tipping procedures are controlled by the pneumatic system.
Extremely smooth operation of the coating carriage thanks to the use of special sliding guides and a special toothed belt drive unit.
Safely reproducible coating results with direct coating wet-on-wet or during subsequent coating.
Easy-to-use manual functions
Coating parameters:
Coating speed (15 - 65 mm/s)
Number of coatings on squeegee side (0 - 10)
Number of coatings on print side (0 - 10)
Flow time (0 - 10 seconds)
Frame profile height (25 - 100 mm)
Enter Buying Requirement Details
Other Products in 'Grunig Pre Press Equipments' category